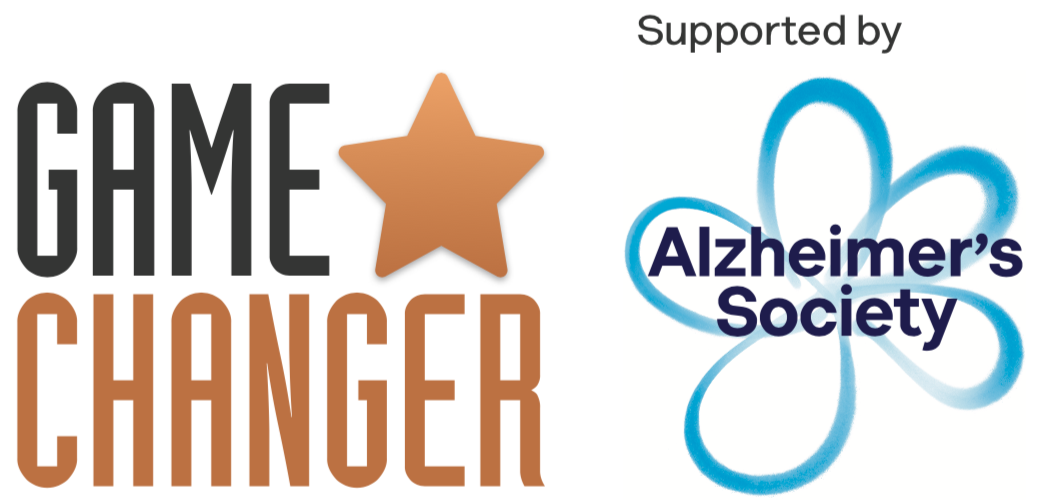 Join the fight against dementia: play fun, free brain games for 5 minutes every day for a month.
Joining GameChanger
Read the important details below carefully.
Before starting you must complete the registration form at the bottom of the page – you'll receive an email containing a unique participant code.
Follow the email's instructions to download our Mezurio smartphone app from either the Apple App Store or Google Play Store, then sign in using your code.
Important Details
This is a scientific study supported by the University of Oxford and Alzheimer's Society. Before you can join we must tell you what sort of data we are going to collect, and formally confirm that we have your permission.
Can I Take Part?...
To take part in GameChanger you:
must have a smartphone (either an Apple iPhone or a Google Android)
must be over the age of 18
must not have a diagnosis of dementia
Participation is entirely voluntary.
Study Information...
You can find out more information about GameChanger at any time by visiting the information page or by clicking on the 'About this app' button from the main screen of the Mezurio App.
Withdrawing...
You are free to withdraw from the study at anytime, you don't need to give a reason. Simply delete the app from your device to stop participating. If you would additionally like us to destroy any data we already hold about you, please let us know by using this link.
Your Personal Data...
Your data will be transferred to a secure UK-based server managed by the University of Oxford. Information which could be used to identify you will only be accessible to approved members of the research team, and unless you agree otherwise, will be deleted at the end of the study. When we share the findings of GameChanger with the wider scientific community, any information which could be used to identify you will be removed.
Ethical Research...
This study has been carefully reviewed by the University of Oxford Central University Research Ethics Committee (CUREC), who specialise in ensuring that research is safe and properly managed.
Voice Recordings...
Some of the tasks in this app will ask you to provide short spoken responses. To do this we will need to record your voice. We will then analyse both what was said, and how it was said. It will be clear which tasks involve voice recording and we will delete your voice recordings once our analyses are complete.
Annual data collection...
We would like you to complete another month of daily smartphone tasks after you have been in GameChanger for one year, and again after two years. We will send you invitation by email when your next round of tasks are ready to begin. Follow the steps in your email invitation to start playing. Alternatively, you can sign up by completing this form. Please use the same email address as when you joined in year one. As with any part of this study, you can choose to stop participating at any time.
Our Research Findings...
You can help us to understand what healthy cognition looks like. We will combine your data with other participants of the study so that we can publish papers that will help to inform the scientific community. We will put details of any publications or other findings in our blog. Use the form below to opt-in, if you would like to receive an email each time a new article is available (you can unsubscribe at anytime).
Trying New Tasks...
Our aim is to continue developing tasks and games for GameChanger. If you would like to try out new tasks as they become available, please opt-in using the form below, and we will send you an email (you can unsubscribe at anytime)
Linking with Other Research...
If you are a participant in a UK research project such as the Children of the 90's or Generation Scotland, we may be able to link your GameChanger performance with information you have provided previously. Combining data like this can massively increase the value of your contribution. To make this link, we may share your personal information (email address, date of birth, postcode) with partnered research projects, or send you an additional email. If you think you have previously participated in research, and would be willing to allow us to do this, please indicate on the form below.
Making a Complaint...
If you need to raise a concern or make a complaint about this study, you can contact the GameChanger study team by emailing gamechanger-complaints@bdi.ox.ac.uk. If you remain unhappy or wish to make a formal complaint, please contact the University of Oxford Central University Research Ethics Committee ethics@medsci.ox.ac.uk.
Privacy Notice...
To read the full GameChanger Privacy Notice click here.
Registration Form